AK-47 | Frontside Misty
The Shadow Collection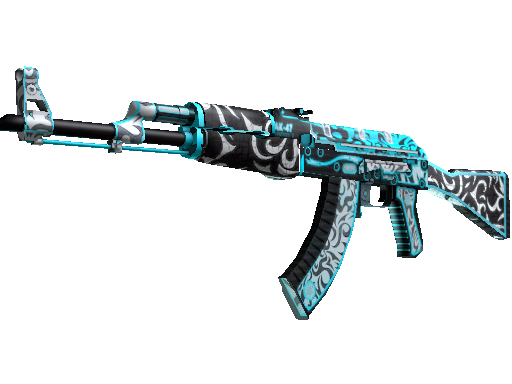 | Condition | Price |
| --- | --- |
| Factory New | $103.22 |
| Minimal Wear | $33.43 |
| Field-Tested | $18.71 |
| Well-Worn | $16.99 |
| Battle-Scarred | $14.64 |
| StatTrak Factory New | $205.98 |
| StatTrak Minimal Wear | $82.1 |
| StatTrak Field-Tested | $42.9 |
| StatTrak Well-Worn | $39.93 |
| StatTrak Battle-Scarred | $29.65 |
Description
It has been painted in vibrant arctic colors.
Renowned for its captivating frosted design, the 'AK-47 | Frontside Misty' is a staple in CS:GO and CS2. Released in the 'Shadow Case' in 2015, it remains a fan favorite due to its icy aesthetics. Its price varies due to the rarity of its condition, and it's often associated with players from colder climates.
It was added to Counter-Strike: Global Offensive on 17 September 2015 as part of the The Shadow Collection with the Shadow Boxing update.View Skin Workshop Submission
AK-47 | Frontside Misty skin float value ranges from 0.02 to 0.87 which makes it available in the following wear conditions: Factory New, Minimal Wear, Field-Tested, Well-Worn, Battle-Scarred.
AK-47 | Frontside Misty finish style is Custom Paint Job with finish catalog equal to 490. It's unique flavor text is: 'I like to work in the snow... it always leaves a pretty picture - Javier Alviso, Fist of the Phoenix'.
AK-47 | Frontside Misty is a fairly liquid item. It should be easy to sell or exchange it. Traders rates this skin at 4.98/5.0.
Buy on CS.TRADE
Buy or trade for AK-47 | Frontside Misty skins listed below on CS.TRADE trade bot.