AK-47 | Emerald Pinstripe
The Bank Collection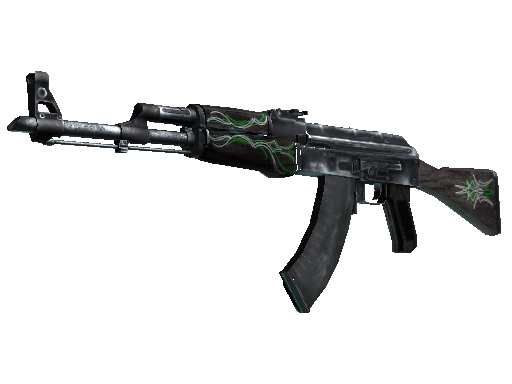 | Condition | Price |
| --- | --- |
| Factory New | $21.02 |
| Minimal Wear | $13.27 |
| Field-Tested | $9.16 |
| Well-Worn | $7.58 |
| Battle-Scarred | $7.3 |
Description
It has been given a bog oak stock and painted a white and green pinstripes.
A coveted item in CS:GO and CS2, 'AK-47 | Emerald Pinstripe' is renowned for its sleek design and green pinstripes. This skin is favored by players looking for a bit of style during in-game encounters. Since its release in 2013, it has been in high demand among traders, with Factory New versions fetching top prices.
It was added to Counter-Strike: Global Offensive on 1 May 2014 as part of the The Bank Collection with the The Hunt Begins update. This skin was created by Valve.
AK-47 | Emerald Pinstripe skin float value ranges from 0.00 to 1.00 which makes it available in the following wear conditions: Factory New, Minimal Wear, Field-Tested, Well-Worn, Battle-Scarred.
AK-47 | Emerald Pinstripe finish style is Custom Paint Job with finish catalog equal to 300. It's unique flavor text is: 'Questioning Imogen is questioning me. Now Relax, have some scotch, and let's talk business - The Father and The Phoenix Part 2'.
AK-47 | Emerald Pinstripe is a fairly liquid item. It should be easy to sell or exchange it. Traders rates this skin at 4.21/5.0.
Buy on CS.TRADE
Buy or trade for AK-47 | Emerald Pinstripe skins listed below on CS.TRADE trade bot.