AK-47 | Elite Build
The Chroma 2 Collection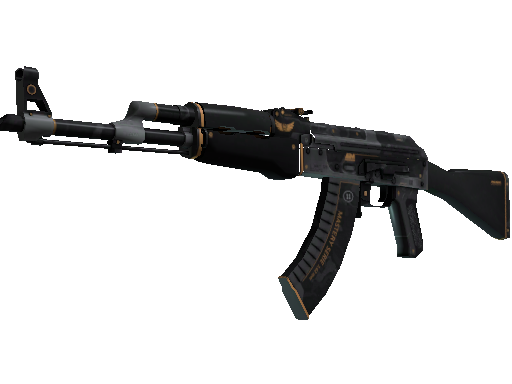 | Condition | Price |
| --- | --- |
| Factory New | $7.54 |
| Minimal Wear | $2.69 |
| Field-Tested | $1.7 |
| Well-Worn | $1.38 |
| Battle-Scarred | $1.19 |
| StatTrak Factory New | $28.94 |
| StatTrak Minimal Wear | $8.4 |
| StatTrak Field-Tested | $5.62 |
| StatTrak Well-Worn | $4.2 |
| StatTrak Battle-Scarred | $4.11 |
Description
It has been custom painted using a combination of hydrographics and careful stenciling and detailed with heat-transfer decals.
The 'AK-47 | Elite Build' is a fan-favorite in CS:GO and CS2 for its futuristic design. Since its release in 2015, it has remained one of the most traded skins, with StatTrak versions garnering high prices. Its aggressive style meshes well with the AK-47's reputation as a reliable and powerful weapon.
It was added to Counter-Strike: Global Offensive on 15 April 2015 as part of the The Chroma 2 Collection with the Chromatic Scale update.View Skin Workshop Submission
AK-47 | Elite Build skin float value ranges from 0.00 to 1.00 which makes it available in the following wear conditions: Factory New, Minimal Wear, Field-Tested, Well-Worn, Battle-Scarred.
AK-47 | Elite Build finish style is Custom Paint Job with finish catalog equal to 422. It's unique flavor text is: 'Tread softly Naomi...people in your line of work aren't known for their longevity - The Shield and The Serpent Part 2'.
AK-47 | Elite Build is one of the most liquid items. There are no problems selling and trading it. Traders rates this skin at 4.58/5.0.
Buy on CS.TRADE
Buy or trade for AK-47 | Elite Build skins listed below on CS.TRADE trade bot.