AK-47 | Cartel
The Chroma Collection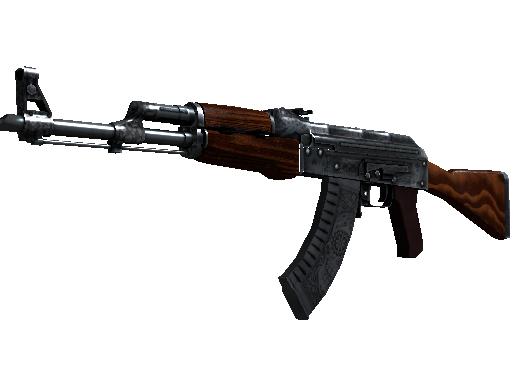 | Condition | Price |
| --- | --- |
| Factory New | $41.9 |
| Minimal Wear | $15.33 |
| Field-Tested | $9.95 |
| Well-Worn | $12.03 |
| Battle-Scarred | $9.11 |
| StatTrak Factory New | $102.87 |
| StatTrak Minimal Wear | $50.8 |
| StatTrak Field-Tested | $33.89 |
| StatTrak Well-Worn | $40.29 |
| StatTrak Battle-Scarred | $32.3 |
Description
It has been engraved with skeletons, flowers and serpents.
The 'AK-47 | Cartel', featuring intricate carvings and a sleek silver finish, is a testament to the detailed textures in CS:GO and CS2. Released in the 'Vanguard Case' in 2014, it's a favorite among players who appreciate understated elegance. Stocks are usually stable, but seasoned traders keep an eye out for this timeless piece.
It was added to Counter-Strike: Global Offensive on 8 January 2015 as part of the The Chroma Collection with the Full Spectrum update.View Skin Workshop Submission
AK-47 | Cartel skin float value ranges from 0.00 to 0.75 which makes it available in the following wear conditions: Factory New, Minimal Wear, Field-Tested, Well-Worn, Battle-Scarred.
AK-47 | Cartel finish style is Patina with finish catalog equal to 394. It's unique flavor text is: 'One little squeeze turns every morning into the Day of the Dead'.
AK-47 | Cartel is a fairly liquid item. It should be easy to sell or exchange it. Traders rates this skin at 4.42/5.0.
Buy on CS.TRADE
Buy or trade for AK-47 | Cartel skins listed below on CS.TRADE trade bot.