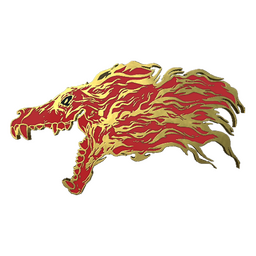 Extraordinary Collectible
Description
The 'Howl Pin' is a rare and highly popular item. Released in 2015, it showcases a fierce wolf howling, a symbol of the player's ferocity. Due to its unique design and its association with the 'Howl' skin series, it is often priced higher in the marketplace. The Howl Pin's popularity soared during the 2015 tournaments due to its distinct design, and it's a constant top-seller.
Howl Pin is a fairly liquid item. It should be easy to sell or exchange it. Traders rates this skin at 4.89/5.0.
Buy on CS.TRADE
Buy or trade for Howl Pin listed below on CS.TRADE trade bot.