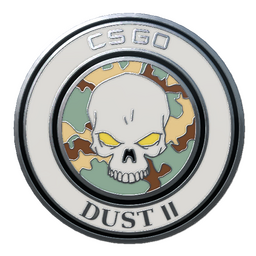 Extraordinary Collectible
Description
The 'Dust II Pin' represents Dust II, one of the most popular maps of CS:GO. Released in 2017, it reflects the player's preference and prowess for this specific battlefield. This pin trades at a higher price due to its representation of a highly successful map. Its association with multiple tournaments and top player performances makes it a unique collector's item.
Dust II Pin is a fairly liquid item. It should be easy to sell or exchange it. Traders rates this skin at 4.51/5.0.
Buy on CS.TRADE
Buy or trade for Dust II Pin listed below on CS.TRADE trade bot.