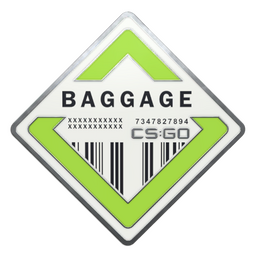 Description
The Baggage Pin is a distinctive icon in CS:GO and CS2. It represents the eponymous map, known for its intense action and intricate layout. It's a popular trading item, with significant value driven by the map's popularity amongst players. The Baggage Pin not only showcases one's knowledge of the game but also their strategic insights into gameplay.
Baggage Pin is a fairly liquid item. It should be easy to sell or exchange it. Traders rates this skin at 4.04/5.0.
Buy on CS.TRADE
Buy or trade for Baggage Pin listed below on CS.TRADE trade bot.