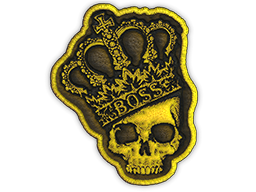 Description
The 'Patch | The Boss' sticker is an iconic item in the Counter-Strike community. Symbolizing leadership and strategy, it was popularized by CS:GO team captain 'Alpha', who wore it during his impressive strategic victories in the 2020 tournament. It's known to sell at premium prices in the market, adding to its desirability. The sticker is synonymous with victory and command, making it a favorite among competitive players.
Patch | The Boss is a fairly liquid item. It should be easy to sell or exchange it. Traders rates this skin at 4.45/5.0.
Buy on CS.TRADE
Buy or trade for Patch | The Boss agent patch listed below on CS.TRADE trade bot.