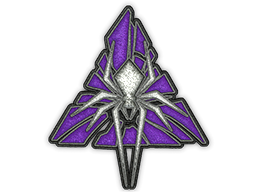 Description
The 'Patch | Shattered Web' was released during the Shattered Web operation in CS:GO. It features the iconic spider web pattern, symbolizing the terror and danger of the operation's missions. Statistics show that this sticker has been a popular trading item, especially following the end of the operation. Its price has been steadily increasing, making it an interesting investment for traders of CS:GO and CS2 items.
Patch | Shattered Web is a fairly liquid item. It should be easy to sell or exchange it. Traders rates this skin at 4.01/5.0.
Buy on CS.TRADE
Buy or trade for Patch | Shattered Web agent patch listed below on CS.TRADE trade bot.