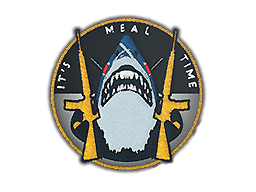 Description
The Meal Time patch is an iconic CS:GO and CS2 item that serves as a reminder of the high stakes of each match. It's popular among traders who value its rarity and uniqueness. Its vibrant design embodies the hunger for victory felt by every player, making it a much-treasured item on the market.
Patch | Meal Time is a fairly liquid item. It should be easy to sell or exchange it. Traders rates this skin at 4.08/5.0.
Buy on CS.TRADE
Buy or trade for Patch | Meal Time agent patch listed below on CS.TRADE trade bot.