Patch | ENCE (Gold) | Stockholm 2021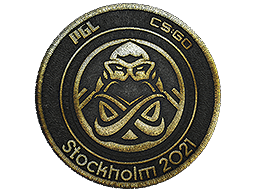 Description
This exquisite gold patch is a treasured memento from the Stockholm 2021 tournament. Featuring the logo of team ENCE, this glossy adornment is a testament to the squad's ability to entertain and compete at the highest level. It may fetch a high price on the market due to its limited availability. The team came in strong in the tournament, showcasing their strategic prowess and mechanical skills, which is reflected in the uniqueness of this item.
Patch | ENCE (Gold) | Stockholm 2021 is an item of average liquidity. It may take some time to sell or trade it. Traders rates this skin at 3.16/5.0.
Buy on CS.TRADE
Buy or trade for Patch | ENCE (Gold) | Stockholm 2021 agent patch listed below on CS.TRADE trade bot.