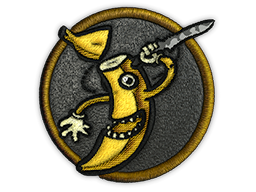 Description
The Crazy Banana patch is a fun-filled item brimming with personality. Its eccentric design and vibrant colors make it a standout piece in a collection. This element of uniqueness and the joy it brings to the players can potentially drive up its market value.
Patch | Crazy Banana is a fairly liquid item. It should be easy to sell or exchange it. Traders rates this skin at 4.02/5.0.
Buy on CS.TRADE
Buy or trade for Patch | Crazy Banana agent patch listed below on CS.TRADE trade bot.