Sealed Graffiti | Twin Koi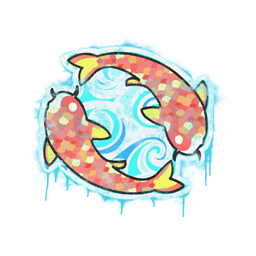 Description
The 'Sealed Graffiti | Twin Koi' sticker is a symbol of calm amidst the chaos of CS:GO/CS2 gaming. It's treasured by players for its unique style and detail. Released during the Summer patch of 2018, it has maintained a steady price in the market. A must-have for players seeking a blend of tranquility and fierceness in their gameplay.
Sealed Graffiti | Twin Koi is an item of average liquidity. It may take some time to sell or trade it. Traders rates this skin at 3.01/5.0.
Buy on CS.TRADE
Buy or trade for Sealed Graffiti | Twin Koi graffiti sprays listed below on CS.TRADE trade bot.