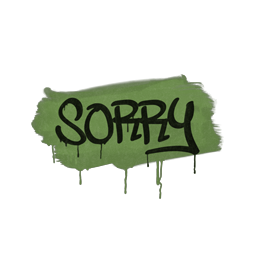 Description
The 'Sealed Graffiti | Sorry' is a popular commodity among CS:GO/CS2 sticker enthusiasts. Known for its unique design and creative rendition of the word 'sorry', this sticker has proven to be a sought-after item. It was first introduced in the 'Sealed Graffiti Box' and has seen consistent popularity and value on the CS:GO/CS2 market. The artist behind the design is rumored to be a famous esports champion, further increasing its demand among fans and collectors alike.
Sealed Graffiti | Sorry Traders rates this skin at 2.98/5.0.
Buy on CS.TRADE
Buy or trade for Sealed Graffiti | Sorry graffiti sprays listed below on CS.TRADE trade bot.