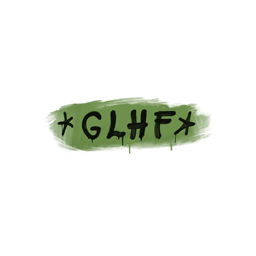 Description
'Sealed Graffiti | GLHF', 'Good Luck, Have Fun', is a standard but important message in the CS:GO/CS2 communities. It encapsulates the spirit of friendly competition that embodies the heart and soul of the game. This sticker has made notable appearances in various tournaments, symbolizing unity among players. Traders cherish this item due to its universal appeal and continuous demand, making it a potential valuable in-game asset.
Sealed Graffiti | GLHF Traders rates this skin at 2.84/5.0.
Buy on CS.TRADE
Buy or trade for Sealed Graffiti | GLHF graffiti sprays listed below on CS.TRADE trade bot.