Sealed Graffiti | Astralis | Krakow 2017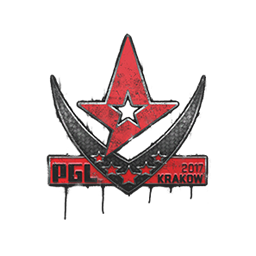 Description
Astralis, one of the top-performing teams at the Krakow 2017 tournament, has their iconography embedded in this sealed graffiti. This sticker holds significant value among CS:GO and CS2 players alike, reflecting the prowess of Astralis during the event. Renowned players such as Dev1ce and Dupreeh contributed to the team's immense success, making the graffiti a historic symbol in the CS world. The average market price hovers around a significant value, influenced by Astralis' consistently remarkable performance.
Sealed Graffiti | Astralis | Krakow 2017 is an item of average liquidity. It may take some time to sell or trade it. Traders rates this skin at 3.01/5.0.
Buy on CS.TRADE
Buy or trade for Sealed Graffiti | Astralis | Krakow 2017 graffiti sprays listed below on CS.TRADE trade bot.