Hydra Gloves | Case Hardened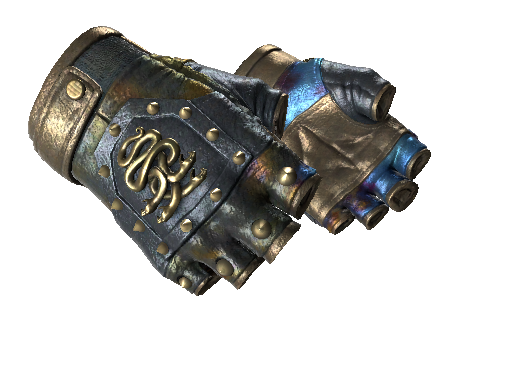 | Condition | Price |
| --- | --- |
| Factory New | $1108.89 |
| Minimal Wear | $309.48 |
| Field-Tested | $153.43 |
| Well-Worn | $138.06 |
| Battle-Scarred | $112.63 |
Description
These fingerless gloves have been decorated with metal studs and the Operation Hydra logo. These vegan leather gloves have been printed with a variegated metallic pattern.
The 'Hydra Gloves | Case Hardened' are renowned for their durability and unique design. Regularly seen in high-stake CS:GO & CS2 tournaments, their exposure often results in an increase in trading activity. Traders value them for their high resale value and consistent market demand.
It was added to Counter-Strike: Global Offensive on 16 February 2018.
Hydra Gloves | Case Hardened skin float value ranges from 0.06 to 0.80 which makes it available in the following wear conditions: Factory New, Minimal Wear, Field-Tested, Well-Worn, Battle-Scarred.
Hydra Gloves | Case Hardened is an item of average liquidity. It may take some time to sell or trade it. Traders rates this skin at 4.53/5.0.
Buy on CS.TRADE
Buy or trade for Hydra Gloves | Case Hardened skins listed below on CS.TRADE trade bot.