Hand Wraps | Duct Tape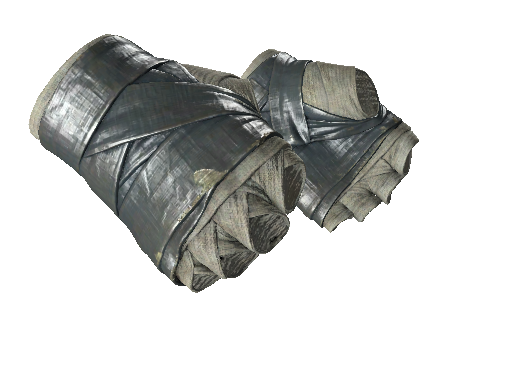 | Condition | Price |
| --- | --- |
| Factory New | $572.81 |
| Minimal Wear | $159.51 |
| Field-Tested | $96.27 |
| Well-Worn | $94.37 |
| Battle-Scarred | $93.34 |
Description
Preferred by hand-to-hand fighters, these wraps protect the knuckles and stabilize the wrist when punching. These scavenged hand-wraps are surprisingly durable but not especially breathable.
The 'Hand Wraps | Duct Tape' are recognised for their rustic, utilitarian look. Despite their seemingly simplistic design, these gloves are highly valued in the CS:GO & CS2 communities. Players who equip them often display improved performance in matches. Traders value them for their stability in the market.
It was added to Counter-Strike: Global Offensive on 16 February 2018.
Hand Wraps | Duct Tape skin float value ranges from 0.06 to 0.80 which makes it available in the following wear conditions: Factory New, Minimal Wear, Field-Tested, Well-Worn, Battle-Scarred.
Hand Wraps | Duct Tape is an item of average liquidity. It may take some time to sell or trade it. Traders rates this skin at 4.92/5.0.
Buy on CS.TRADE
Buy or trade for Hand Wraps | Duct Tape skins listed below on CS.TRADE trade bot.